Global News
World News - Asia & Middle East
Details

Category: World News - Asia & Middle East
Chinese authorities in part of the western Xinjiang region have ordered all vehicles to be installed with satellite tracking devices as part of a crackdown on terrorism.
The government wants an end to sporadic attacks in the province, which it blames on Islamist militants.
A police statement said cars are the main means of transport for terrorists.
Drivers in the Bayingol area who refuse to install the system will not be allowed to buy fuel.
Xinjiang has seen a series of bombings and knife attacks over recent years, which the government blames on separatist elements of the region's large Muslim Uighur population.
Rights groups say the violence is due to the tight controls by the government on Uighurs' religion and culture.
The government denies any repression.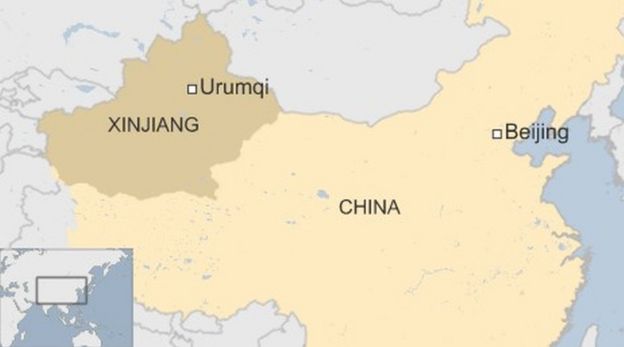 The vehicle-tracking programme will use China's homegrown Beidou satellite navigation system, which was launched to reduce reliance on the US's global positioning system (GPS).
It would also help car owners to find their vehicles quickly if they are stolen by terrorists, the state-run Global Times newspaper said.
Security in the region has been further increased after five people were killed by three assailants in a knife attack last week.
The attackers were shot dead by police.
Security forces held an anti-terror rally on Saturday, parading hundreds of armed men through the streets of the regional capital Urumqi.
In June, Xinjiang police ordered residents to provide DNA samples and other biological data when applying for travel documents.
The move, which the government said was also to combat terrorism, was criticised by human rights groups.
Other News
Marine Le Pen Refuses To Wear Hijab On Lebanon Trip - Cancels Visit With Grand Mufti
"I am Muslim, Too" Dhimmis and Useful Idiots Protest In USA
Shock pictures show right-wing protesters being brutally attacked by far-left 'anti-fascists'
Details

Category: World News - Asia & Middle East
Marine Le Pen, leader of the National Front in France, is currently in Lebanon. Today she was to meet with the Grand Mufti, but then it dawned on her that she would have to put on a hijab so she canceled her meeting.
Published: 02/21/2017 -
The Grand Mufti's press office said that her aides had told her prior to the meeting that they required her to wear a head covering for the meeting.
Le Pen has been visiting Lebanon in a bid to bolster her presidential credentials.
She was scheduled to meet Grand Sunni Muslim Mufti Sheikh Abdel-Latif Derian on Tuesday morning.
Shortly after she arrived at his office, one of his aides tried to give her a headscarf to put on.
She refused and said she had met in the past with the grand mufti of Egypt's Al-Azhar, one of the world's top Sunni clerics, without wearing a veil.
Once she was told that customs are different in Lebanon, Le Pen walked toward her car and left.
Polls suggest Le Pen is likely to get the highest proportion of votes in the first round of voting in April, but then lose to a more mainstream candidate in the second round in May.
Marine Le Pen, presidential candidate for France's National Front (FN) has canceled a meeting that today would have been held with Lebanon's Grand Mufti, Sheikh Abed el-Lateef Daryan, in Beirut.
Le Pen is not the first visiting dignitary to refuse to wear a hijab in an islamic country.
Denmark's Crown Princess Mary also refused to put on the hijab during her visit to Saudi Arabia recently.
Other News
"I am Muslim, Too" Dhimmis and Useful Idiots Protest In USA
Shock pictures show right-wing protesters being brutally attacked by far-left 'anti-fascists'
Nigel Farage: 'Malmo Is Now The Rape Capital Of Europe'
Details

Category: World News - Asia & Middle East
Raids come after more than 80 Sufi Muslims killed during religious festival
Pakistan's army says it has killed more than 100 "terrorists" in 24 hours of mass security operations following an Isis suicide bombing that killed more than 80 people.
Maj Gen Asif Ghafoor said raids were still underway across the country, including in the province of Punjab where several militants have died in gun battles in recent days.
A spokesperson for Pakistan's Chief of Army Staff said the military would act for security against "all types of threat".
"Nation to stay steadfast with full confidence in their security forces," he added.
"We shall not let the hostile agenda succeed whatever it may cost."
See Also: Saudi Arabia deports 40,000 Pakistanis accused of terrorism in just 4 months
Authorities said a large number of arrests were also made as intelligence agencies work to uncover terror networks liked to Isis, the Taliban and al-Qaeda.
The Pakistani armed forces said the country's border with Afghanistan had been closed since Thursday night and all unauthorised entry would be stopped.
It has accused its neighbouring country of sheltering terrorists, sending a list of 76 people suspected of planning or supporting attacks in Pakistan, while Afghanistan has made the same allegation.
Afghan diplomats were summoned to the military's General Headquarters in Rawalpindi over the allegations, with Pakistan demanding their counterparts took "immediate action" against named suspects or hand them over.
Government officials said the crackdown would continue nationwide over the coming days, following a week of bloody terror attacks claimed by both Isis and a faction of the Taliban.
Other News
Japan Rejected Over 99% Of Refugees Last Year. Here's Why.
TURKEY'S TOP CLERIC DENOUNCES RAIDS ON 4 IMAMS IN GERMANY
Geert Wilders Could Change Constitution to 'De-Islamisize' Netherlands
Details

Category: World News - Asia & Middle East
With an increasing number of refugees around the world, countries
are opening up their doors. But, this isn't the case for Japan.
Fleeing conflict, famine and domestic oppression, the number of refugees has swelled to more than 20 million. Many are seeking refuge in countries like Turkey, Germany and the United States, but for many their lives are left in limbo, unable to build a new life.
And with this challenge, the international community is reminding signatories of the UN Refugee Convention of their duties to help those in need. But Japan seems immune to this pressure, since in 2016, it took in only 28 refugees.
See Also: Saudi Arabia deports 40,000 Pakistanis accused of terrorism in just 4 months
With less than 2% of its population being foreign-born, Japan has always shied away from the idea of a multi-cultural society. This is one of the reasons why it is so hard to become a Japanese citizen. It's even harder for asylum seekers, since the process requires a lot of paperwork and all of it must be submitted in Japanese. So why does Japan take in any refugees at all?
Learn More:
Reuters: Japan took in just 28 refugees in 2016, despite record applications
Financial Times: Japan accepted 28 refugees in 2016
Bloomberg: Japan Opens Up to Foreign Workers (Just Don't Call it Immigration)
Details

Category: World News - Asia & Middle East
ANKARA, Turkey (AP) -- Turkey's top religious official has suggested that the German authorities' raids on the apartments of four Islamic clerics are political moves fueled by "Islamophobia" ahead of elections in the country.
The Islamic clerics whose homes were raided on Wednesday are suspected of spying on opponents of the Turkish government and are accused of hiding behind religion to conduct espionage on behalf of Ankara.
Mehmet Gormez, the head of Turkey's religious affairs directorate, on Friday rejected accusations that the clerics were engaged in spying but acknowledged they had "exceeded their powers."
He said Ankara had called the clerics back to Turkey days before the raids in order not to harm relations with Germany.
Gormez told journalists: "It is unacceptable that in the election (period) there is a race for Islamophobia-based hatred."
Other News
Geert Wilders Could Change Constitution to 'De-Islamisize' Netherlands
Donald Trump says he will sign new 'Muslim ban' order next week
Trump: Palestinians Must Stop The Hate If They Want Peace